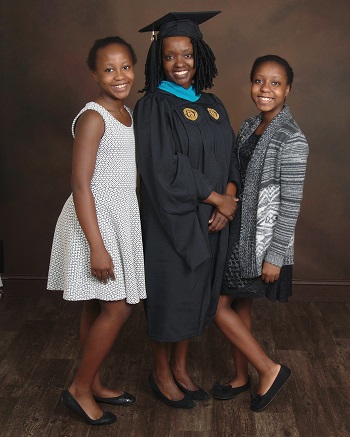 Beatrice, a HomeStretch program graduate, is celebrating a big milestone. She recently graduatedwith a Masters degree in Public Administration. Currently working in an accounting role, she aims to serve women and children as her career progresses. What's more, she has decided to serve as a Family Mentor to a current HomeStretch family. We recently sat down with her to hear more about her journey and this decision.
Why do you think you'll be an effective mentor? 
As a HomeStretch graduate, I know mentors are important. I traveled the road of a HomeStretch family and because of my own journey, I can offer qualified advice. My mentors helped me sort through a messy situation to create a clear path to success. This was a great learning experience for me and I am anxious to share what I have learned.
Why have you decided to mentor?
Being homeless is scary. HomeStretch provided a roof over my head and the resources and guidance I needed. My mentors held me accountable in decision-making, encouraged me to keep going, and celebrated every milestone. I would like to be that person for another family.
What do you want others to learn from your story?
I am always willing to share my story because I hope it will inspire others to succeed. I am living proof that with hard work and diligence, things can and do turn out just fine. There is a brighter tomorrow.