Financial Donations
Your financial partnership helps HomeStretch fulfill our mission of assisting working homeless families. Your gift can provide: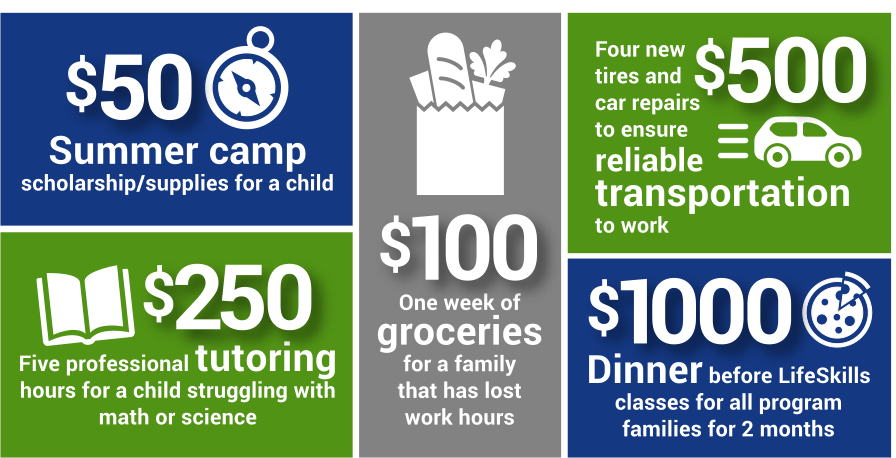 Choose the timing and method for donating that works for you!
One-time Gift – It's easy to donate by mail or using our secure online donation process.
Recurring Gifts – Your recurring financial support provides a sustainable base of support for meeting housing needs.  Please consider pledging a recurring monthly gift.
Major gifts – The advancement of the HomeStretch mission is supported through individuals and organizations that are committed to the ongoing growth and expansion of the program.   Consider becoming a part of this passionate group of supporters through your major gift.
More Planned Giving Options – Honorariums for a loved one, stock transfers and endowments can make a lasting difference for HomeStretch.  Does your employer have a matching gift programs? Learn more about these addition planned giving options.
Making a Donation is Easy
Online – Make one time or recurring gift by credit or debit card with our secure online donation process.
Mail or Fax – Fill out the donation form then select the Check/Money Order Payment tab and mail your check or money order to:  HomeStretch, 89 Grove Way, Roswell, GA 30075
United Way or Combined Federal Campaign - Designate HomeStretch (listed as Housing Initiative of North Fulton) with United Way (Code #389) or Combined Federal Campaign (Code #23812).
Shop Online - Start your shopping at Amazon Smile.