APRIL 2018 
Yesenia's Story: A Look Inside HomeStretch

HomeStretch Honored at the State Capitol

A Look Back at the History of HomeStretch  – Founding Mothers and Fathers

Lace Up Your Sneakers

Peachtree Tea Success
Little Black Dress Event
Mark Spain Real Estate Excellence 
100 Black Men at Roswell Roots
Housing Best Practices
Thank You Volunteers
Calendar
There's a new way to share the HomeStretch mission – in a newly released video! This two-minute piece debuted at the Peachtree Tea and follows the story of one of our graduate families from homelessness to a stable life. So take a moment to watch it yourself, and then pass it on.
HomeStretch was recognized with a proclamation in the Georgia State Senate and the House of Representatives in honor of our 25 years serving the community. We are so proud of where we have been and where we are going. Here's to another 25!

You may have heard about the 'Founding Mothers' of HomeStretch – Faye Jones Anderson, Amy Blackburn, Beth Burns, and Jackie Wertymer. At the Peachtree Tea, these wonderful women sat down for a coffee table discussion about how HomeStretch started. With humor and passion, they shared what it was like in 1991- 1992. They spoke of their efforts to recruit volunteers, obtain funding, provide services to homeless families through a volunteer run organization, and provide governance on the first Board of Directors. Their program model was to provide "a hand up, not a hand out."
However, did you know there are also a few 'Founding Fathers' of HomeStretch? Warmly referred to as the 'Roswell Three,' these community leaders truly laid the groundwork to provide a strong foundation for HomeStretch.
Cy Mallard of Roswell Presbyterian Church, Malone Dodson of Roswell United Methodist Church, and Hendree Harrison of St. David's Episcopal Church led their churches in ministering to this new housing and services initiative through seed money for housing, family sponsorship, and supportive services.
HomeStretch is extremely proud of the legacy our founding mothers, fathers, and community created 25 years ago. It is with great anticipation and excitement that we carry the torch forward into the next 25 years.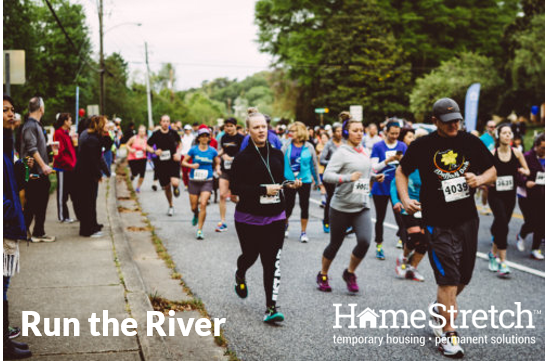 Get out your running gear and strap on your Fitbit!  It is time for the Run the River Road Race on April 14.Beginning at St. Andrew Catholic Church in Roswell, this tranquil course runs alongside the Chattahoochee River. After the race, join us for music, food, and a fun awards ceremony!
Did we mention the cool race shirt? 
We welcome serious runners, weekend warriors, walkers, families, and pets. Options include a 5K walk, 5/10K runs, and a Fun Run. Come join us for a morning of fun and exercise to benefit the mission of HomeStretch. This race 
always
 sells out so be sure to reserve your spot at 
Run the River Details


Peachtree Tea Success
With over 250 guests, we celebrated our 11th Annual Peachtree Tea on February 27. We dined on a lovely lunch and enjoyed a lively silent auction and 50/50 raffle all while celebrating HomeStretch with friends and co-workers.
During lunch, we were inspired by speaker Sharde Lewis, a HomeStretch graduate, who told the story of her journey from homelessness to HomeStretch and her continued success and self-sufficiency.
The luncheon concluded in a spirit of celebration for HomeStretch's  25th anniversary as we heard about our roots from our founding mothers.  "This year's Peachtree Tea was a fantastic success," says event chairperson Tania Trumble. "We were able to raise a lot of money for HomeStretch and continue to raise awareness about the homelessness issues in our area."
Thank you to Tania, the event volunteers, auction donors, and sponsors. Most especially, thank you to Publix Charities, our presenting sponsor again this year.

Fighting Poverty Wearing a Little Black Dress 
The Junior League of Gwinnett and North Fulton sponsor the Little Black Dress initiative where local non-profit leaders discuss the causes and effects of poverty for women and children. These leaders wear a little black dress for a week, making a statement that poverty is 'unfashionable'. HomeStretch Executive Director, Rose Burton, joined other local poverty experts to discuss the impact of severe financial hardship and limited access to opportunities and resources.
Did you know?
* Georgia ranks 6th worst in US Child Poverty
* 38% children in Atlanta are below the poverty line
* 1 in 5 families with children under 18 live in poverty, 49% headed by single mothers
* From 2000 to 2012, the poor in Atlanta suburbs more than doubled, growing by 122%

Thank you to The Junior League and Rainbow Village for hosting this important event that provides an opportunity for open discussion about poverty and how the community can be involved in solutions.


100 Black Men at Roswell Roots 

HomeStretch thanks Harold Hamilton of 100 Black Men, Metro North Chapter, for treating our families with tickets to the "Olympic Pride American Prejudice" feature film as part of the Roswell Roots Festival.  The film highlights the lives of 18 brave African-American Olympians who defied the odds at the 1936 Olympics in Berlin, Germany.
HomeStretch resident Kaye attended with her four children. "The show was great! I learned things that I didn't know," shared Kaye. "Now I need to take a history class or start reading about it because I want to learn more."
Thank you, 100 Black Men, who regularly provide mentoring and support to our teens!


Housing Best Practices
HomeStretch friend and partner, Dan Wilhelm of 3 Options Realty, recently volunteered his time and housing law expertise to provide additional education for the HomeStretch staff. Dan reviewed best practices in landlord/tenant relationships and fair housing laws in particular, as it relates to our program and services. We are proud to work with 3 Options Realty and thank Dan for his years of service to HomeStretch.
April 14 – Choate Construction Run the River Road Race.

Sincerely,
Rose J. Burton
Executive Director