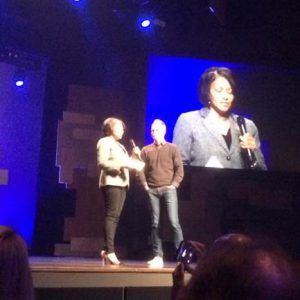 HomeStretch was honored this year to be selected by North Point Community Church as an official ministry Partner.
As a Partner, North Point asked us, "What would help your organization make a big difference?" Then, during one of their morning services, Pastor Clay Scroggins presented HomeStretch Executive Director Rose Burton with two checks to ensure that HomeStretch can make that difference! The first gift is designated for 800 Forrest Street, an affordable housing initiative for HomeStretch graduates and the low-income workforce in North Fulton. The second will help provide counseling services for families in our program.
This is only one aspect of North Point's Be Rich campaign, a time when the church commits to "Give, Serve, Love". Through this amazing part of their ministry, North Point members not only gave financially, but also invested hundreds of hours on service projects for HomeStretch. We are thankful for their partnership!